hear …a serious man!? romp through the oddball world of GOSPEL!
---
Volume 4: JESUS LOVES ME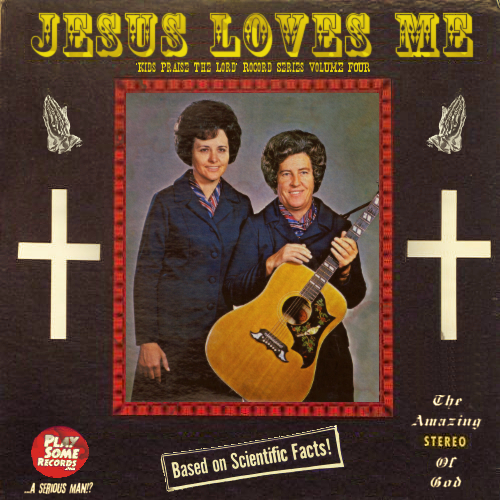 it was a mighty happy sound
when the folks would gather round
and start singing
Camp Meeting Style

Playlist
01. Revelator Quartet – Atom Bomb
02. The Masters Family – Glory Land March
03. Bill Lowery – Singin' Camp Meetin' Style
04. Don Reno, Red Smiley and The Tennessee Cutups – I'm So Happy
05. The Benver Bros. – Are You Walkin' & A-Talkin'
06. The Cowboy Church Sunday School – The Lord Is Counting On You
07. Zero Jones – Shake Hands With The Image Of God
08. 'Cile Turner – The Golden Rule
09. Golden Gate Quartet – Schadrack
10. T. Tommy and The Chanters – Come, Sweet Chariot
11. Marie Roberson – Hell Bound Train
12. Della Hicks with Mello Dears and The Rainbow Rhythmairs – When De Debbil Taps You On The back
13. Ernest Martin with The Norvel Brothers and O.C.Robbins – I Want To Live Humble
14. Ray Baker and his Happy Travelers – Preach The Word Preacher Man
15. Sons Of The Pioneers – Read The Bible Every Day
16. The Apollos feat. Hiram Walker – Lord, Lord, Lord
17. Webb Pierce – The Good Lord Giveth (And Uncle Sam Taketh Away)
play it and let's see what happens!

Volume 3: JESUS IS MY PUSHER
this true tale will give hope to those desperate hearts
still caught in the grips of addiction
and to the people in their lives
who have to bear the brunt of their actions

– Philipp 4:13 –
– I can do all things through Christ who strengthens me –
Playlist
01. T.Tommy And The Chanters- (I'm Gonna) Sing And Shout
02. The Angelic Gospel Choir Under The Direction Of Rev. Lawrence Roberts – I Know The Lord
03. Ralph Hart And The Texas Musical Harts- There Ain't No Grave Gonna Hold My Body Down
04. Marie Knight With The Sam Price Trio – Who Rolled The Stone Away
05. Bible Aires Spiritual Singers, Lead Voice…Ben Floyd – You' Better Get Ready
06. Don Reno, Red Smiley And The Tennessee Cutups – He's Coming Back To Earth Again
07. Mervin Shiner With Jordanaires – My Lord's Gonna Move This Wicked Race
08. The Sunshine Boys – We Need A Lot More Jesus (And A Lot Less Rock And Roll)
09. Johnny Tyler – God's Gonna Turn Us To Dust
10. Nelson King – Deck Of Cards
11. Milard Presley And His Presleys – Denomination
12. The Masters Family – Just A Sinner Saved By Grace
13. Margie Singleton – Jesus Is My Pusher
14. CBS Trumpeteers – God Is Coming
15. P.Vert – Stickball
16. The Stonemans – God Is Alive And Well
play it and let's see what happens!

---
Volume 2: A SINNER AM I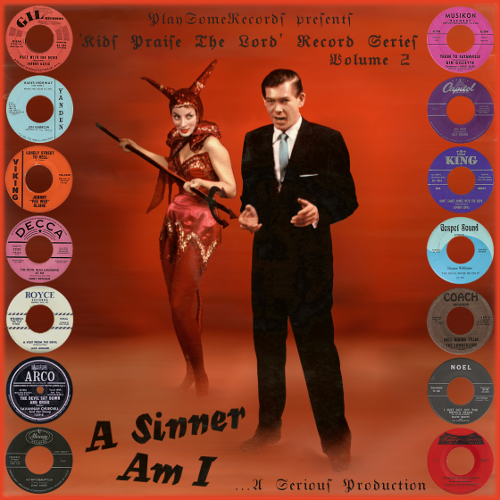 if you are not saved – then you're in trouble
One Day You Will Die
and if you're still not saved – when you die
You Will Go To Hell
-Facts You Need to Know-
Playlist
01. Johnny David – Race With The Devil
02. Len Barrow – Hades Highway
03. Johnny "Pee Wee" Blaine – Lonely Street To Hell
04. Jimmy Newman – The Devil Was Laughing At Me
05. Jack Leonard – Visit From The Devil
06. Savannah Churchill And Her Group – The Devil Sat Down And Cried
07. Zero Jones – Ten Thousand Little Devils
08. Jimmy Minor – Satan's Chauffeur
09. Gin Gilette – Train To Satanville
10. Billy Strange – Hell Train
11. Cowboy Copas – Don't Shake Hands With The Devil
12. Duane Williams – The Devil Made Me Do It
13. The Lumberjack With The Northwood Singers – Hell Bound Train
14. David Beatty And The Harmonettes – I Just Got Of The Devil's Train
15. Wayne, Pat And Keith – I'm Tired Of You, Satan
play it and let's see what happens!

---
Volume 1: JESUS IS THE ANSWER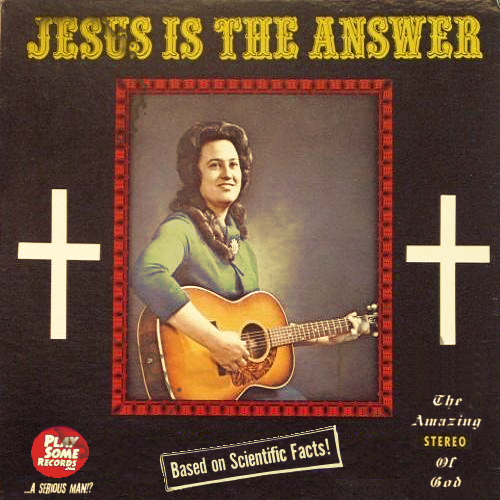 give gospel to those who are perishing,
yodel to those who are in anguish;
let them listen and forget their poverty
and remember their misery no more.

Playlist
01. Lowell Blanchard With The Valley Trio – Jesus Hits Like The Atom Bomb
02. The Reverend Kelsey – I'm A Witness For My Lord
03. Rev. Charlie Jackson – Gods Got It
04. Evelyn Freeman – Didn't It Rain
05. The Cowboy Church Sunday School – Open Up Your Heart (And Let The Sunshine In)
06. Zero Jones – Wrestling With Satan
07. Marvel Felts – You Gave Me A Mountain
08. Reverend Lofton & The Holy Travelers – Look To Jesus
09. Selwyn Cox – Yodelling Heart
10. Wanda Jackson – Jesus Put A Yodel In My Soul
11. The Radio Four – What More Can Jesus Do
12. Reverend Beat-Man And The Un-believers – Jesus
13. The Sons Of The Pioneers – Wondrous Word Of The Lord
14. Sarah, Hannah And Leah Peasall – In The Highways
15. Holly Golightly And The Brokeoffs – Gettin' High For Jesus
16. Johnny Cash – It Was Jesus
play it and let's see what happens!